Glickenhaus teases upcoming 2020 Le Mans WEC hypercar
There'll be a road-legal version of the hybrid racer, too
Scuderia Cameron Glickenhaus declared its interest in the FIA's new hypercar category in the World Endurance Championship late last year, and has now given us a glimpse at the first of the cars it will run. In 2020, when the new regulations come into effect, the American race team will campaign two cars, and it also intends to make a road-legal version of the racer.
Glickenhaus has confirmed that the new race car, an evolution of the 007, will be built in its current race facility in Turin. Exactly how it will be powered hasn't been established just yet; the engine is likely to be sourced from General Motors – possibly a Chevrolet V8, similar to the one seen in Ginetta's LMP1 car – but SCG is waiting for the full regulations to be published before it decides exactly what hybrid system it will use.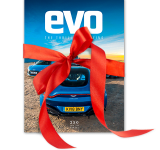 Subscribe to evo magazine
If you're passionate about the world's greatest performance cars, experience the thrill of driving with evo magazine. Try your first 5 issues for £5.
Fears as to whether a relatively small team will be able to compete with larger manufacturers and their even more significant budgets is not a worry for Scuderia Cameron Glickenhaus. The new rules limit race development budget to €20million, all of which Glickenhaus has already secured through sponsorship, according to comments on the firm's official Twitter account.
What's more, Glickenhaus has already proved that its race cars can be competitive despite not having the might of a large manufacturer behind them. Its most recent GT3 race car, the 003, has more 'Balance of Performance' restrictions applied to it than its rivals in order to limit its performance and keep the racing competitive, while SCG's P4/5 Competizione won its class in the 2012 Nürburgring 24 Hours.
The P4/5 also features a hybrid system, showing that Glickenhaus has experience in adding electric drive to its race cars – a requirement for entries under the new hypercar regulations.
What the new rules don't stipulate is that the cars have to be road legal. Yet still SCG intends to make its WEC contender a street car – one that could be driven away after a race. Again on Twitter, SCG said: 'There are sports cars, and then there are sports cars, as in cars that can race for 24 hours and then drive home.
> Read more about Glickenhaus's current supercar the SCG003S
'The road-legal requirement is our own idea, a nod to the homologation rules from 1967. […] We believe a hypercar class should be based on road-legal hypercars. We dream of building the ultimate road-legal race car.'
Expect the street version to sport an engine with different fuelling and a revised ignition map, as well as different wheels and tyres.
Glickenhaus does not intend to make any money through this racing venture, but sees real value in the project in terms of further establishing its brand as well as improving its road cars. SCG credits its time in racing for making the small number of road cars it has produced so far better, faster and more reliable – all extremely important given that Glickenhaus intends to expand its range of road cars soon.
Testing is expected to commence in May 2020, and if you'd like to see the racer in the metal, rumours are that it will make an appearance at The Quail in Monterey later this month.